Property Details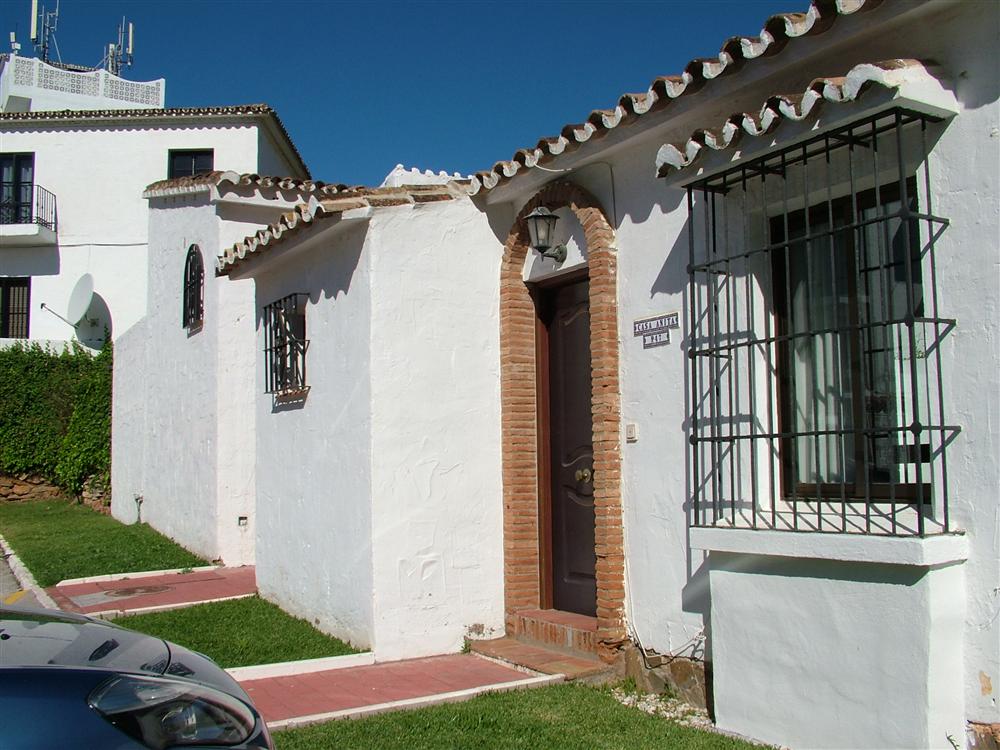 Description
Lovely Spanish 1 bedroom bungalow, with open plan kitchen/living area and shower room.
PRICES START FROM ONLY £185 PER WEEK
FREE WIFI
The bungalow is very close to Community swimming pool, the beach and village of La Cala de Mijas, where you can find bars restaurants, shops, bus stop....etc.
Property Photos
More Property Details
General Details
1 bedroomed bungalow
Bedrooms Details
2 single beds
with aircon
Bathrooms Details
shower room
Kitchen Details
microwave
full oven and hob, fridge freezer
Entertainment Available
free view English t.v.
salt water community pool area
main plaza has bars and restaurants. local shops only a walk away.

Outside Details
patio with seating to relax and chill.
Other Details
linen is provided and on 2wk stays the maid will call to change the linen and clean the bathroom this service is included in the rental price.
Please note you will need to bring beach/pool towels thank you.
Rates
| | | | |
| --- | --- | --- | --- |
| Date From | Date To | Price (euros) | Price (pounds) |
| 01/10/2019 | 31/10/2019 | 322 € | £ 0 |
| 01/11/2019 | 01/01/2020 | 280 € | £ 0 |
| 01/01/2020 | 31/03/2020 | 280 € | £ 0 |
| 01/04/2020 | 30/05/2020 | 322 € | £ 0 |
| 01/06/2020 | 30/06/2020 | 392 € | £ 0 |
| 01/07/2020 | 31/08/2020 | 434 € | £ 0 |
| 01/09/2020 | 31/10/2020 | 392 € | £ 0 |
Availability Calendar
2020
S
M
T
W
T
F
S
S
M
T
W
T
F
S
S
M
T
W
T
F
S
S
M
T
W
T
F
S
S
M
T
W
T
F
S
Feb

1

2

3

4

5

6

7

8

9

10

11

12

13

14

15

16

17

18

19

20

21

22

23

24

25

26

27

28

29

Mar

1

2

3

4

5

6

7

8

9

10

11

12

13

14

15

16

17

18

19

20

21

22

23

24

25

26

27

28

29

30

31

Apr

1

2

3

4

5

6

7

8

9

10

11

12

13

14

15

16

17

18

19

20

21

22

23

24

25

26

27

28

29

30

May

1

2

3

4

5

6

7

8

9

10

11

12

13

14

15

16

17

18

19

20

21

22

23

24

25

26

27

28

29

30

31

Jun

1

2

3

4

5

6

7

8

9

10

11

12

13

14

15

16

17

18

19

20

21

22

23

24

25

26

27

28

29

30

Jul

1

2

3

4

5

6

7

8

9

10

11

12

13

14

15

16

17

18

19

20

21

22

23

24

25

26

27

28

29

30

31

Aug

1

2

3

4

5

6

7

8

9

10

11

12

13

14

15

16

17

18

19

20

21

22

23

24

25

26

27

28

29

30

31

Sep

1

2

3

4

5

6

7

8

9

10

11

12

13

14

15

16

17

18

19

20

21

22

23

24

25

26

27

28

29

30

Oct

1

2

3

4

5

6

7

8

9

10

11

12

13

14

15

16

17

18

19

20

21

22

23

24

25

26

27

28

29

30

31

Nov

1

2

3

4

5

6

7

8

9

10

11

12

13

14

15

16

17

18

19

20

21

22

23

24

25

26

27

28

29

30

Dec

1

2

3

4

5

6

7

8

9

10

11

12

13

14

15

16

17

18

19

20

21

22

23

24

25

26

27

28

29

30

31
2021
S
M
T
W
T
F
S
S
M
T
W
T
F
S
S
M
T
W
T
F
S
S
M
T
W
T
F
S
S
M
T
W
T
F
S
Jan

1

2

3

4

5

6

7

8

9

10

11

12

13

14

15

16

17

18

19

20

21

22

23

24

25

26

27

28

29

30

31
Key: Red = booked, Green = available
Make an Enquiry: