Property Details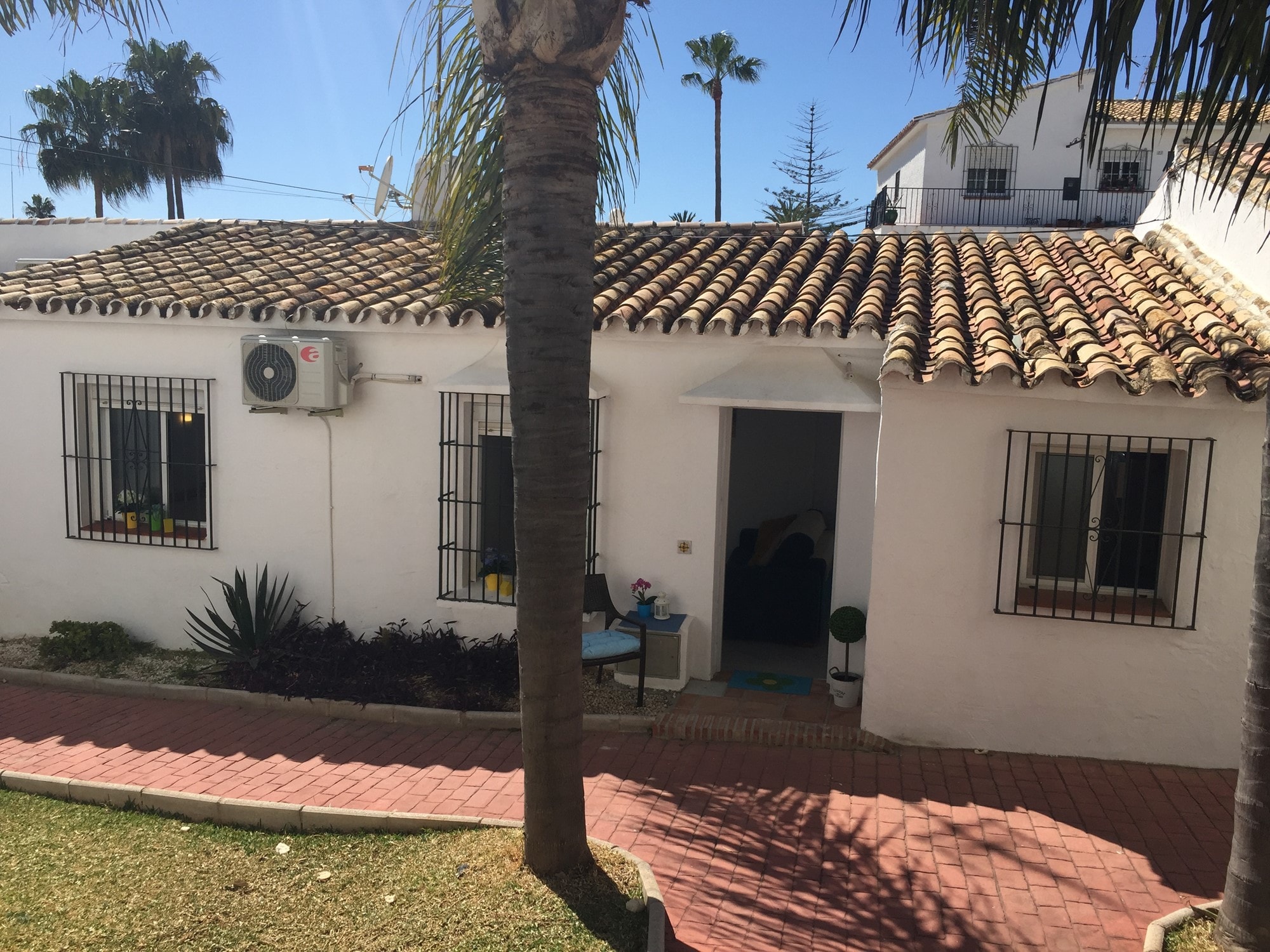 Description
The 1 bedroom bungalow has been renovated to a high standard.
This property has the advanage of an outside patio area and only 1 mintues walk to the community pool, with also a baby pool.
In the plaza of la cortijera we have bars and a Spanish Restaurant to spend quite evenings relaxing or a short walk to the village of la Cala De Mijas, for many more restruants, bars and supermarkets.
Property Photos
More Property Details
General Details
bungalow with 1 bedroom
Bedrooms Details
1 bedroom with doublé bed
Bathrooms Details
shower room
Living Area Details
open plan living room and kitchen
with Uk t.v and free fibre optics internet also pull down doublé bed for extra guests
Kitchen Details
fully fitted kitchen kettle, oven, hob, microwave, toaster.
washing machine.
Entertainment Available
UK t.v and free fibre optic internet.
Outside Details
table and chairs
Other Details
the area is not suitable for disabled clients.
Rates
| | | | |
| --- | --- | --- | --- |
| Date From | Date To | Price (euros) | Price (pounds) |
| 01/11/2019 | 30/11/2019 | 400 € | £ 0 |
| 01/12/2019 | 31/12/2019 | 400 € | £ 0 |
| 01/01/2020 | 29/02/2020 | 300 € | £ 0 |
| 01/03/2020 | 30/04/2020 | 400 € | £ 0 |
| 01/05/2020 | 30/06/2020 | 450 € | £ 0 |
| 01/07/2020 | 31/08/2020 | 500 € | £ 0 |
| 01/09/2020 | 31/10/2020 | 450 € | £ 0 |
| 01/11/2020 | 31/12/2020 | 400 € | £ 0 |
Availability Calendar
2020
S
M
T
W
T
F
S
S
M
T
W
T
F
S
S
M
T
W
T
F
S
S
M
T
W
T
F
S
S
M
T
W
T
F
S
May

1

2

3

4

5

6

7

8

9

10

11

12

13

14

15

16

17

18

19

20

21

22

23

24

25

26

27

28

29

30

31

Jun

1

2

3

4

5

6

7

8

9

10

11

12

13

14

15

16

17

18

19

20

21

22

23

24

25

26

27

28

29

30

Jul

1

2

3

4

5

6

7

8

9

10

11

12

13

14

15

16

17

18

19

20

21

22

23

24

25

26

27

28

29

30

31

Aug

1

2

3

4

5

6

7

8

9

10

11

12

13

14

15

16

17

18

19

20

21

22

23

24

25

26

27

28

29

30

31

Sep

1

2

3

4

5

6

7

8

9

10

11

12

13

14

15

16

17

18

19

20

21

22

23

24

25

26

27

28

29

30

Oct

1

2

3

4

5

6

7

8

9

10

11

12

13

14

15

16

17

18

19

20

21

22

23

24

25

26

27

28

29

30

31

Nov

1

2

3

4

5

6

7

8

9

10

11

12

13

14

15

16

17

18

19

20

21

22

23

24

25

26

27

28

29

30

Dec

1

2

3

4

5

6

7

8

9

10

11

12

13

14

15

16

17

18

19

20

21

22

23

24

25

26

27

28

29

30

31
2021
S
M
T
W
T
F
S
S
M
T
W
T
F
S
S
M
T
W
T
F
S
S
M
T
W
T
F
S
S
M
T
W
T
F
S
Jan

1

2

3

4

5

6

7

8

9

10

11

12

13

14

15

16

17

18

19

20

21

22

23

24

25

26

27

28

29

30

31

Feb

1

2

3

4

5

6

7

8

9

10

11

12

13

14

15

16

17

18

19

20

21

22

23

24

25

26

27

28

Mar

1

2

3

4

5

6

7

8

9

10

11

12

13

14

15

16

17

18

19

20

21

22

23

24

25

26

27

28

29

30

31

Apr

1

2

3

4

5

6

7

8

9

10

11

12

13

14

15

16

17

18

19

20

21

22

23

24

25

26

27

28

29

30
Key: Red = booked, Green = available
Make an Enquiry: