Property Details
Apartment to rent La Cala de Mijas Add to Favourites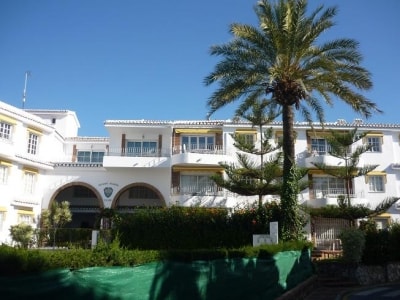 Description
The 1 bedroom apartment is in the popular coastal village of La Cala De Mijas, set between the busy and popular town of Fungirola and the cosmopolitan town of Marbella, and the very exclusive Puerto Banús. All are only a car or bus journey away.
In the village we have great restaurants, bars to suit all of the culinary tastes.
The beach bars serve the local dishes and you don't even need to move from the beach.
Only a short walk from the apartment you have supermarkets with all the food you would need during your stay.
The village has shops, banks, a chemist and more.
WI-FI INTERNET AND THE BBC & ITV CHANNELS WITH FULL SKY PACKAGE HAS NOW BEEN INSTALLED.
SMART TV

In fact if it a quite and lazy holiday you are looking for then La Cala De Mijas is the place for your Holiday.
If not then you can take a trip to Ronda, Mijas village and visit the donkey`s! or a day out at the water park.
We are also near to Tivoli world only 20 minutes away if you like the fun parks, or just to watch the shows.
Website Link: http://www.lcsmanagement.com
Property Photos
More Property Details
General Details
This spacious 3rd floor apartment only 2 minutes from the Blue flag clean beaches of La Cala De mijas set between the busy town of Fungirola and the exclusive Marbella. Both only A bus journey away.
The apartment has all you would need for A perfect holiday.
No need for a car as the village has many very good restaurants, bars and beach bars, to choose from.
We have 2 large supermarkets for the self catering meals after a long day on the beach with local, fresh fish and meats for the BBQ`s

Bedrooms Details
The bedroom has 2 single beds and its own large sunbathing balcony which looking over the pool area.
it has the benefit of a safe to lock away your valuables during your stay.
linen is provided but please remember to bring your beach or pool towels, we do not provide.
On 2wk bookings a maid service is included to change the linen and clean the bathroom.
Bathrooms Details
shower room.

Living Area Details
the bright and light lounge/dinning area is a pleasure to relax after a hard day in the sun,
with sky free view t.v if you feel like a few hours away from the sun, or a night in just taking in the view from the balcony.
Also in the unit is a radio and a hairdryer if you forget yours!
The air con is on a meter at an extra cost, however you only use what you need so cost is minimum.


Dining Room Details
the dining area is part of the lounge.
Kitchen Details
The galley kitchen has full oven/hob, fridge/freezer, washing machine, iron, Microwave, toaster, and kettle.
Entertainment Available
T.V with FULL SKY PACKAGE also Wi-Fi internet and BBC & ITV CHANNELS.
SMART T.V.
community pool area
Outside Details
this 1 bedroom west facing apartment has the bonus of 2 good size balconies with chairs tables and sun loungers on the balcony off the bedroom.
you will also find 2 folding chairs for the use at the pool or beach.
Other Details
linen is provided and on 2wk stays the maid will call to change the linen and clean the bathroom this service is included in the rental price.
Please note you will need to bring beach/pool towels thank you.
Rates
| | | | |
| --- | --- | --- | --- |
| Date From | Date To | Price (euros) | Price (pounds) |
| 01/07/2019 | 31/08/2019 | 620 € | £ 0 |
| 01/09/2019 | 31/10/2019 | 520 € | £ 0 |
| 01/11/2019 | 31/12/2019 | 345 € | £ 0 |
| 01/11/2019 | 31/12/2020 | 365 € | £ 0 |
| 01/01/2020 | 31/03/2020 | 365 € | £ 0 |
| 01/04/2020 | 31/05/2020 | 455 € | £ 0 |
| 01/06/2020 | 30/06/2020 | 550 € | £ 0 |
| 01/07/2020 | 31/08/2020 | 655 € | £ 0 |
| 01/09/2020 | 31/10/2020 | 550 € | £ 0 |
Additional Information
Rentals over 4 weeks discount on request.
Availability Calendar
2020
S
M
T
W
T
F
S
S
M
T
W
T
F
S
S
M
T
W
T
F
S
S
M
T
W
T
F
S
S
M
T
W
T
F
S
Feb

1

2

3

4

5

6

7

8

9

10

11

12

13

14

15

16

17

18

19

20

21

22

23

24

25

26

27

28

29

Mar

1

2

3

4

5

6

7

8

9

10

11

12

13

14

15

16

17

18

19

20

21

22

23

24

25

26

27

28

29

30

31

Apr

1

2

3

4

5

6

7

8

9

10

11

12

13

14

15

16

17

18

19

20

21

22

23

24

25

26

27

28

29

30

May

1

2

3

4

5

6

7

8

9

10

11

12

13

14

15

16

17

18

19

20

21

22

23

24

25

26

27

28

29

30

31

Jun

1

2

3

4

5

6

7

8

9

10

11

12

13

14

15

16

17

18

19

20

21

22

23

24

25

26

27

28

29

30

Jul

1

2

3

4

5

6

7

8

9

10

11

12

13

14

15

16

17

18

19

20

21

22

23

24

25

26

27

28

29

30

31

Aug

1

2

3

4

5

6

7

8

9

10

11

12

13

14

15

16

17

18

19

20

21

22

23

24

25

26

27

28

29

30

31

Sep

1

2

3

4

5

6

7

8

9

10

11

12

13

14

15

16

17

18

19

20

21

22

23

24

25

26

27

28

29

30

Oct

1

2

3

4

5

6

7

8

9

10

11

12

13

14

15

16

17

18

19

20

21

22

23

24

25

26

27

28

29

30

31

Nov

1

2

3

4

5

6

7

8

9

10

11

12

13

14

15

16

17

18

19

20

21

22

23

24

25

26

27

28

29

30

Dec

1

2

3

4

5

6

7

8

9

10

11

12

13

14

15

16

17

18

19

20

21

22

23

24

25

26

27

28

29

30

31
2021
S
M
T
W
T
F
S
S
M
T
W
T
F
S
S
M
T
W
T
F
S
S
M
T
W
T
F
S
S
M
T
W
T
F
S
Jan

1

2

3

4

5

6

7

8

9

10

11

12

13

14

15

16

17

18

19

20

21

22

23

24

25

26

27

28

29

30

31
Key: Red = booked, Green = available
Make an Enquiry: