Property Details
Apartment to rent La Cala de Mijas Add to Favourites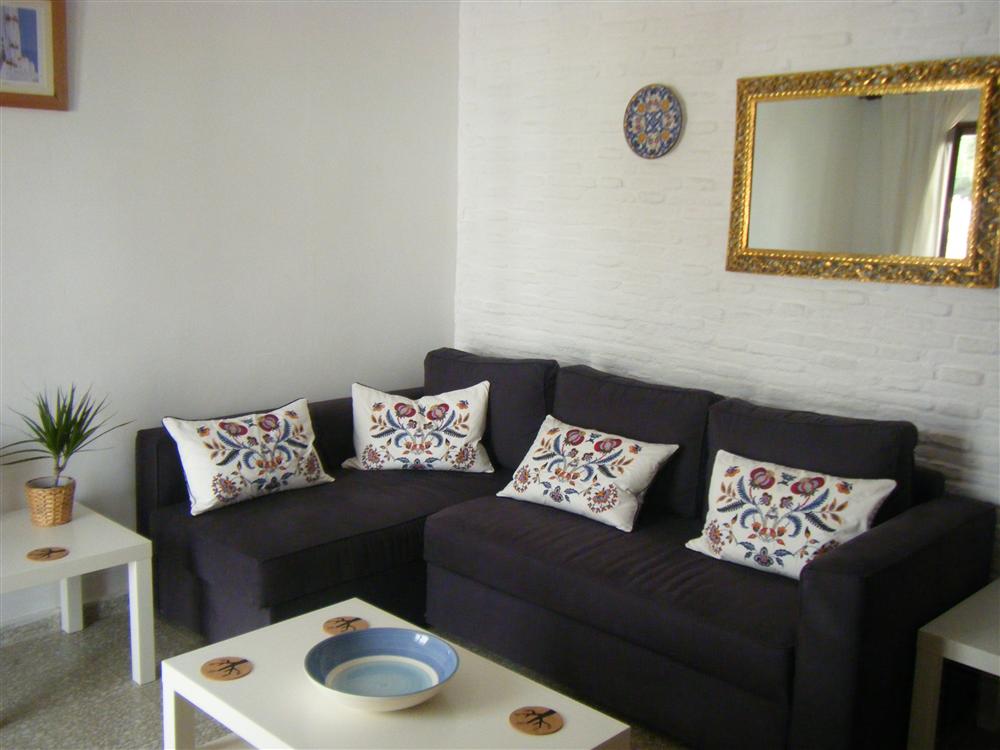 Description
Apartment located in a the lovely community of la cortijera, which is a 5 minute walk to the beach and to some shops and restaurants.
The apartment is in a small block located right next to the community swimming pool.
It is a second floor apartment and has a lovely view over old spanish houses and gardens.
Property Photos
More Property Details
General Details
nice spanish apartment situated 5 minutes from the beach and has the community pool on your door step.
Bedrooms Details
1 bedroom with two single beds.
Bathrooms Details
bathrrom with a shower room and bath.
Living Area Details
good size living room leading on to a small balcony, perfect for having a nice glass of wine on.
Dining Room Details
dinning/living room
Kitchen Details
ok sized kitchen fully finished.
Entertainment Available
televition
Outside Details
small balcony
Other Details
please email for availability we will get back back to you within 12 to 24 hours or phone 0034 607706482
Rates
| | | | |
| --- | --- | --- | --- |
| Date From | Date To | Price (euros) | Price (pounds) |
| 01/01/2020 | 31/03/2020 | 238 € | £ 0 |
| 01/04/2020 | 31/05/2020 | 273 € | £ 0 |
| 01/06/2020 | 30/06/2020 | 348 € | £ 0 |
| 01/07/2020 | 31/08/2020 | 373 € | £ 0 |
| 01/09/2020 | 31/10/2020 | 348 € | £ 0 |
| 01/11/2020 | 31/12/2020 | 215 € | £ 0 |
Availability Calendar
2020
S
M
T
W
T
F
S
S
M
T
W
T
F
S
S
M
T
W
T
F
S
S
M
T
W
T
F
S
S
M
T
W
T
F
S
Feb

1

2

3

4

5

6

7

8

9

10

11

12

13

14

15

16

17

18

19

20

21

22

23

24

25

26

27

28

29

Mar

1

2

3

4

5

6

7

8

9

10

11

12

13

14

15

16

17

18

19

20

21

22

23

24

25

26

27

28

29

30

31

Apr

1

2

3

4

5

6

7

8

9

10

11

12

13

14

15

16

17

18

19

20

21

22

23

24

25

26

27

28

29

30

May

1

2

3

4

5

6

7

8

9

10

11

12

13

14

15

16

17

18

19

20

21

22

23

24

25

26

27

28

29

30

31

Jun

1

2

3

4

5

6

7

8

9

10

11

12

13

14

15

16

17

18

19

20

21

22

23

24

25

26

27

28

29

30

Jul

1

2

3

4

5

6

7

8

9

10

11

12

13

14

15

16

17

18

19

20

21

22

23

24

25

26

27

28

29

30

31

Aug

1

2

3

4

5

6

7

8

9

10

11

12

13

14

15

16

17

18

19

20

21

22

23

24

25

26

27

28

29

30

31

Sep

1

2

3

4

5

6

7

8

9

10

11

12

13

14

15

16

17

18

19

20

21

22

23

24

25

26

27

28

29

30

Oct

1

2

3

4

5

6

7

8

9

10

11

12

13

14

15

16

17

18

19

20

21

22

23

24

25

26

27

28

29

30

31

Nov

1

2

3

4

5

6

7

8

9

10

11

12

13

14

15

16

17

18

19

20

21

22

23

24

25

26

27

28

29

30

Dec

1

2

3

4

5

6

7

8

9

10

11

12

13

14

15

16

17

18

19

20

21

22

23

24

25

26

27

28

29

30

31
2021
S
M
T
W
T
F
S
S
M
T
W
T
F
S
S
M
T
W
T
F
S
S
M
T
W
T
F
S
S
M
T
W
T
F
S
Jan

1

2

3

4

5

6

7

8

9

10

11

12

13

14

15

16

17

18

19

20

21

22

23

24

25

26

27

28

29

30

31
Key: Red = booked, Green = available
Make an Enquiry: