Property Details
Apartment to rent La Cala de Mijas Add to Favourites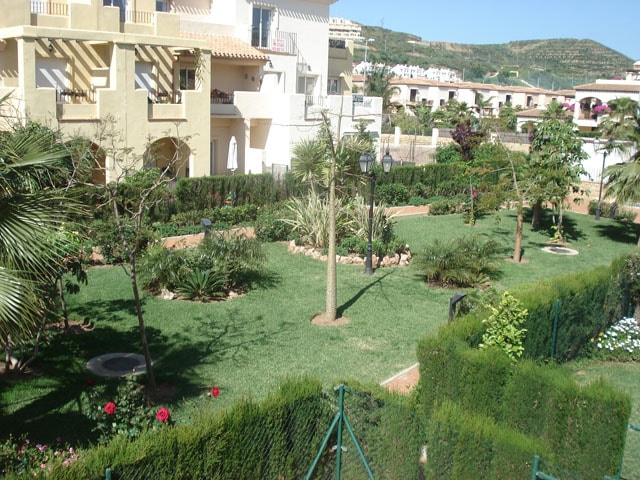 Description
This is a beautiful two bedroom apartment. You will feel very at home here as it supplies everything you could need on your holiday. The apartment has lovely views overlooking lushes gardens and is right next to a beautiful new golf course called la Noria.The apartment is also near the village of La Cala where you can find two supermarkets, restaurants and shops of all varieties. The apartment is only 6mins walk to the beach.

The apartment has two good sized bedrooms, both with two single beds and both bedrooms have good wardrobe space.The first bedroom has an en-suite shower room.The second bathroom has a good sized bath/shower.

The kitchen has all the utilities you could need if you need to cook while you are on your holiday. There is also a separate laundry room, where you have use of the washing and drying area.

In the living room you can find two comfortable sofas and nice dining area that leads on to a large balcony overlooking gardens. The television with free view sky, a dvd player and a cd player. There is also free WIFI and over 60 UK TV channels.

The large private balcony has sun beds and a BBQ for all those sunny days.
Property Photos
More Property Details
General Details
very nice apartment , very homely , near the beach, golf course,and center off the village where you can find supermarkets restaurants and other shops.
METERED AIRCON.
Bedrooms Details
two twin bedrooms, with good wardrobe space.
Bathrooms Details
Large bathroom with bath and shower.

en suite shower room from master bedroom

Living Area Details
living room with a dinning area, thats leads on to a large balcony over looking garden's.
Dining Room Details
there are two areas you could dine, inside you have a nice dinning table and you also have another table outside on the balcony.
Kitchen Details
kitchen, with fridge/freezer, oven, microwave, with separate utility room.
Entertainment Available
Television, free sky, dvd player, cd player.
ALSO OVER 60 UK TV CHANNELS AVAILABLE.
FREE WIFI CONNECTION
Outside Details
balcony over looking gardens.
Other Details
this apartment is very nicely decorated and feels very homely.
also has air-conditioning.please email for availability we will get back back to you within 12 to 24 hours or phone 0034 607706482
included in the price of a 2wks stay you have a change of linen and towels.
Rates
| | | | |
| --- | --- | --- | --- |
| Date From | Date To | Price (euros) | Price (pounds) |
| 01/01/2019 | 31/03/2019 | 470 € | £ 0 |
| 01/04/2019 | 31/05/2019 | 530 € | £ 0 |
| 01/06/2019 | 30/06/2019 | 625 € | £ 0 |
| 01/07/2019 | 31/08/2019 | 815 € | £ 0 |
| 01/09/2019 | 31/10/2019 | 630 € | £ 0 |
| 01/10/2019 | 31/10/2019 | 545 € | £ 0 |
| 01/11/2019 | 30/11/2019 | 470 € | £ 0 |
| 01/12/2019 | 30/12/2019 | 470 € | £ 0 |
Availability Calendar
2020
S
M
T
W
T
F
S
S
M
T
W
T
F
S
S
M
T
W
T
F
S
S
M
T
W
T
F
S
S
M
T
W
T
F
S
May

1

2

3

4

5

6

7

8

9

10

11

12

13

14

15

16

17

18

19

20

21

22

23

24

25

26

27

28

29

30

31

Jun

1

2

3

4

5

6

7

8

9

10

11

12

13

14

15

16

17

18

19

20

21

22

23

24

25

26

27

28

29

30

Jul

1

2

3

4

5

6

7

8

9

10

11

12

13

14

15

16

17

18

19

20

21

22

23

24

25

26

27

28

29

30

31

Aug

1

2

3

4

5

6

7

8

9

10

11

12

13

14

15

16

17

18

19

20

21

22

23

24

25

26

27

28

29

30

31

Sep

1

2

3

4

5

6

7

8

9

10

11

12

13

14

15

16

17

18

19

20

21

22

23

24

25

26

27

28

29

30

Oct

1

2

3

4

5

6

7

8

9

10

11

12

13

14

15

16

17

18

19

20

21

22

23

24

25

26

27

28

29

30

31

Nov

1

2

3

4

5

6

7

8

9

10

11

12

13

14

15

16

17

18

19

20

21

22

23

24

25

26

27

28

29

30

Dec

1

2

3

4

5

6

7

8

9

10

11

12

13

14

15

16

17

18

19

20

21

22

23

24

25

26

27

28

29

30

31
2021
S
M
T
W
T
F
S
S
M
T
W
T
F
S
S
M
T
W
T
F
S
S
M
T
W
T
F
S
S
M
T
W
T
F
S
Jan

1

2

3

4

5

6

7

8

9

10

11

12

13

14

15

16

17

18

19

20

21

22

23

24

25

26

27

28

29

30

31

Feb

1

2

3

4

5

6

7

8

9

10

11

12

13

14

15

16

17

18

19

20

21

22

23

24

25

26

27

28

Mar

1

2

3

4

5

6

7

8

9

10

11

12

13

14

15

16

17

18

19

20

21

22

23

24

25

26

27

28

29

30

31

Apr

1

2

3

4

5

6

7

8

9

10

11

12

13

14

15

16

17

18

19

20

21

22

23

24

25

26

27

28

29

30
Key: Red = booked, Green = available
Make an Enquiry: