Property Details
Town House to rent La Cala de Mijas Add to Favourites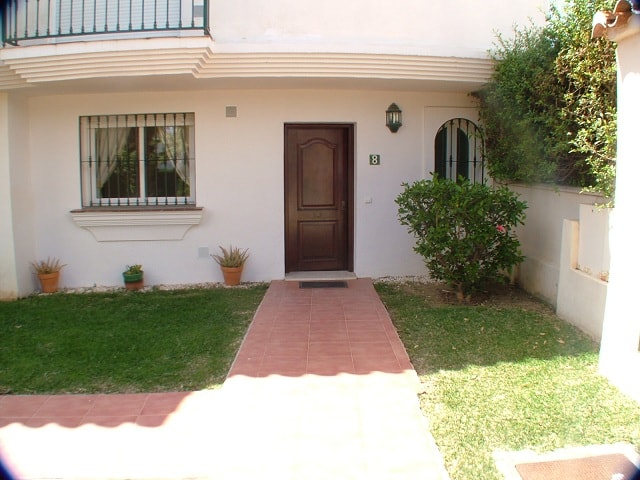 Description
Town house with 3 good size bedrooms and two bathrooms. with BBC & ITV T.V fitted.
Very close to communal swimming pool, and just a 7 minute walk to the beach or the lovely spanish village of la cala de mijas.
Property Photos
More Property Details
General Details
fantastic townhouse in a great location, about a ten minute walk to the beach and the village of la cala de mijas where you can find loads of shops and restaurants.
this townhouse is fully airconditioned.
Bedrooms Details
three bedrooms, one downstairs and two up stairs. one with double bed and two single.
Bathrooms Details
two bathrooms.
Living Area Details
nice a bright living room, very nice decorated.
Dining Room Details
Dinning/living.
Kitchen Details
open plan kitchen with all you will need for your holiday.
Entertainment Available
BBC & ITV channels with Sky free view television. D.V.D Player
Outside Details
roof top balcony and a lovedly community pool.
Other Details
please email for availability we will get back back to you within 12 to 24 hours or phone 0034 607706482
Rates
| | | | |
| --- | --- | --- | --- |
| Date From | Date To | Price (euros) | Price (pounds) |
| 01/06/2020 | 30/06/2020 | 790 € | £ 0 |
| 01/07/2020 | 31/08/2020 | 880 € | £ 0 |
| 01/09/2020 | 31/10/2020 | 710 € | £ 0 |
| 01/11/2020 | 31/03/2021 | 525 € | £ 0 |
| 01/11/2020 | 28/02/2022 | 525 € | £ 0 |
| 01/04/2021 | 31/05/2021 | 700 € | £ 0 |
| 01/06/2021 | 01/06/2021 | 833 € | £ 0 |
| 01/07/2021 | 31/08/2021 | 924 € | £ 0 |
| 01/09/2021 | 31/10/2021 | 833 € | £ 0 |
Availability Calendar
2020
S
M
T
W
T
F
S
S
M
T
W
T
F
S
S
M
T
W
T
F
S
S
M
T
W
T
F
S
S
M
T
W
T
F
S
May

1

2

3

4

5

6

7

8

9

10

11

12

13

14

15

16

17

18

19

20

21

22

23

24

25

26

27

28

29

30

31

Jun

1

2

3

4

5

6

7

8

9

10

11

12

13

14

15

16

17

18

19

20

21

22

23

24

25

26

27

28

29

30

Jul

1

2

3

4

5

6

7

8

9

10

11

12

13

14

15

16

17

18

19

20

21

22

23

24

25

26

27

28

29

30

31

Aug

1

2

3

4

5

6

7

8

9

10

11

12

13

14

15

16

17

18

19

20

21

22

23

24

25

26

27

28

29

30

31

Sep

1

2

3

4

5

6

7

8

9

10

11

12

13

14

15

16

17

18

19

20

21

22

23

24

25

26

27

28

29

30

Oct

1

2

3

4

5

6

7

8

9

10

11

12

13

14

15

16

17

18

19

20

21

22

23

24

25

26

27

28

29

30

31

Nov

1

2

3

4

5

6

7

8

9

10

11

12

13

14

15

16

17

18

19

20

21

22

23

24

25

26

27

28

29

30

Dec

1

2

3

4

5

6

7

8

9

10

11

12

13

14

15

16

17

18

19

20

21

22

23

24

25

26

27

28

29

30

31
2021
S
M
T
W
T
F
S
S
M
T
W
T
F
S
S
M
T
W
T
F
S
S
M
T
W
T
F
S
S
M
T
W
T
F
S
Jan

1

2

3

4

5

6

7

8

9

10

11

12

13

14

15

16

17

18

19

20

21

22

23

24

25

26

27

28

29

30

31

Feb

1

2

3

4

5

6

7

8

9

10

11

12

13

14

15

16

17

18

19

20

21

22

23

24

25

26

27

28

Mar

1

2

3

4

5

6

7

8

9

10

11

12

13

14

15

16

17

18

19

20

21

22

23

24

25

26

27

28

29

30

31

Apr

1

2

3

4

5

6

7

8

9

10

11

12

13

14

15

16

17

18

19

20

21

22

23

24

25

26

27

28

29

30
Key: Red = booked, Green = available
Make an Enquiry: